FDA approves first generic version of Sabril to help treat seizures in adults and pediatric patients with epilepsy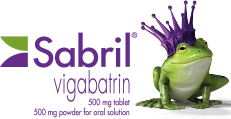 The U.S. Food and Drug Administration approved the first generic version of Sabril (vigabatrin) 500 mg tablets for treating complex partial seizures, also called focal seizures, as an adjunctive therapy (given with another primary treatment) in patients 10 years and older who have responded inadequately to several alternative (refractory) treatments.
Complex partial seizures, a common type of seizures, start in a specific area of the brain and can affect consciousness. Typically, complex partial seizures last between 30 and 90 seconds, and are often followed by a period of disorientation, confusion and/or fatigue.
The FDA requires appropriate data and information to demonstrate that generic drugs meet the agency's rigorous approval standards to ensure quality drug products that are as safe and effective as their brand name counterparts. As with brand-name drugs, the FDA also inspects manufacturing and packaging facilities for generic drugs to ensure that they are capable of consistently producing quality products.
Labeling for vigabatrin tablets includes a boxed warning for permanent vision loss. Teva's generic vigabatrin tablets is part of a single shared-system Risk Evaluation and Mitigation Strategy (REMS) program with other drug products containing vigabatrin to ensure safe use of the product. Brand and generic drug makers are required to develop a single shared-system REMS program (unless FDA waives the single shared system requirement) when a generic drug seeks approval and the brand drug has a REMS associated with it.
The most common side effects associated with vigabatrin tablets include dizziness, fatigue, sleepiness (somnolence), involuntary eye movement (nystagmus), tremor, blurred vision, memory impairment, weight gain, joint pain (arthralgia), upper respiratory tract infection, aggression, double vision (diplopia), abnormal coordination and a confused state. Serious side effects associated with vigabatrin tablets include permanent vision loss and risk of suicidal thoughts or actions.
Reference:
https://www.lundbeck.com/upload/us/files/pdf/Products/Sabril_MG_US_EN.pdf